Micaela Cadungog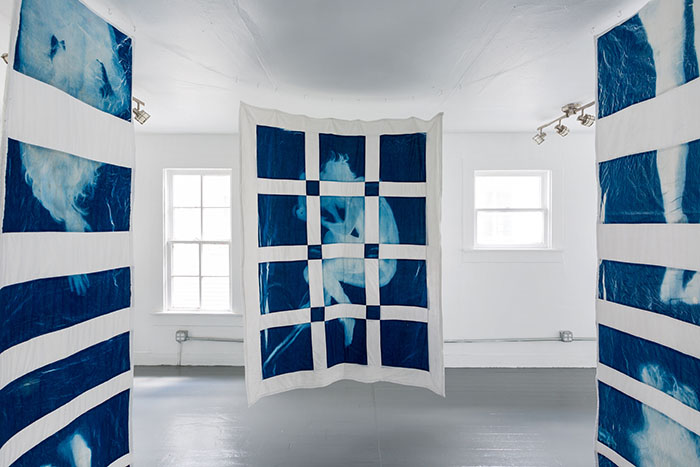 Femininity is broken into dualities: the physical self and the emotional self, bodily shame and sexualization, and violence and tenderness afflicting femininity. Each half of these dualities are at odds but inseparable. Emotional responses bleed into physical sensations. Female sexuality is under strict scrutiny. Violent and tender experiences are intertwined. These dualities are linked by the physicality of the body and how others react to and interact with the body. My work explores these dualities, their relationships, and the physicality of the body through self-portraiture, artifacts, and recently, quilt-making.
Violence reminds us of how vulnerable our bodies are. However, the female experience is a paradoxical intersection of violence and tenderness. Womanhood is marked by blood. In sexual intercourse, it is feminine to be penetrated. Childbirth is inescapably painful. Simultaneously, tenderness exists in these "violent" experiences: a bond between mother and child grows from childbirth, and emotional intimacy can grow from physical intimacy. The bed is a space of vulnerability: it is where the body rests and commonly the space where these acts occur. Yet it is ultimately a space of comfort. In this space, quilts are supposed to protect the body. The quilts provide a resting place for the body.
Drawing from the bed as a space of vulnerability, my quilts marry physical comfort and tenderness with violence. The bodies are permanent traces laid to rest. However, my bodies are trapped on the top of the quilt. They are purposely made vulnerable. The bodies are then interrupted and dismantled by invasive embellishments emerging from them. Even the process of quilting, deliberately piercing the fabric, is inherently violent. These embellishments allow me to bring internal physical and emotional pains into the visual realm and makes them tangible. In this tangibility, there is control and thus comfort. Still, this violence emerges from natural forces inherent to our beings. It is a part of nature itself. The natural forces can be quiet or destructive, but they are immoveable, and our bodies are at their mercy.
When I started this body of work, the world was not in its current state. Now, we are hyper aware of our fragility, both physical and emotional. Although we are "safe" in our homes, domestic space seems to oppressively loom over us. There is no recovery in this constant state of rest. Similar to the quilts, the rest is tumultuous, and we are similarly trapped in this limbo of rest and unrest.

Micaela Cadungog received her BFA in Photography/Digital Media from the University of Houston. Her thesis show, It Turns Into Memory, was exhibited at Flatland Gallery. In Summer 2019, she was a resident of Project Row House's Summer Studios Program. She has also shown work in curated group shows with Art League Houston, FLATS, and Hardy & Nance Street Studios. In 2020, she had her first solo show with Alief Art House entitled Intimate Restlessness.