Radical Beauty
Throughout my career in my paintings, drawings and sculptures I have addressed feminist issues and socio-political concerns. In 2019, I began creating bas-reliefs of masks/headdresses painted on layers of plexiglass with acrylics and mixed media transfers. The work explores the positive power and celebration of the carnival in our lives. Titled "Radical Beauty," the sculptures were recently exhibited at Michael Warren Contemporary in Denver.
I would like to give you a bit of a backstory on how the masks/headdresses evolved. I had been painting bondage masks called Scold's Bridles, used to silence women and slaves, putting them on images of women in a series called "Cosmic Women." When Trump took power, I decided to put those restraining devices on Trump and his thugs. I did 35 portraits titled "The Wall of Shame." The research and execution was so depressing that I wanted to do something positive, uplifting and celebratory about strong women who inspired me. As in my interactive exhibition The Sideshow of the Absurd, the mask constructions allow me the opportunity to explore issues that I am interested in such as politics, the environment, space, art, music and human rights.
Process and the exploration of a variety of materials are also a major component of my work. I begin with drawings and use the computer to manipulate them into more complex images. I have the ability to take my drawings, enlarge them in the computer and transfer them on to the plexiglass. I juxtapose these drawing areas with painted layers to achieve contrast. My use of collage and other techniques creates unexpected combinations and results. I like painting on a smooth surface and the plexiglass is fun to paint on and shape. There are a wide variety of colors and surfaces and can be layered for depth and dimension.
Masks and headdresses are powerful symbols in a wide variety of cultures and groups. By putting on a mask and becoming someone else, the participant enters a sphere that investigates power, identity, and oftentimes gender. Originally inspired by specific women personalities, I began to realize that these "disguises" have a larger significance. As I continued exploring into 2020, and every detail of our lives was overshadowed by the Covid-19 pandemic, the masks in turn projected an alternate meaning of protection and resilience. Although some of the pieces contain images of shields and helmets, it is the constant flower elements, those fragile essences that manifest as the resilient warriors on the metaphorical battlefield. The sculptures became an exploration of beauty as radical thought.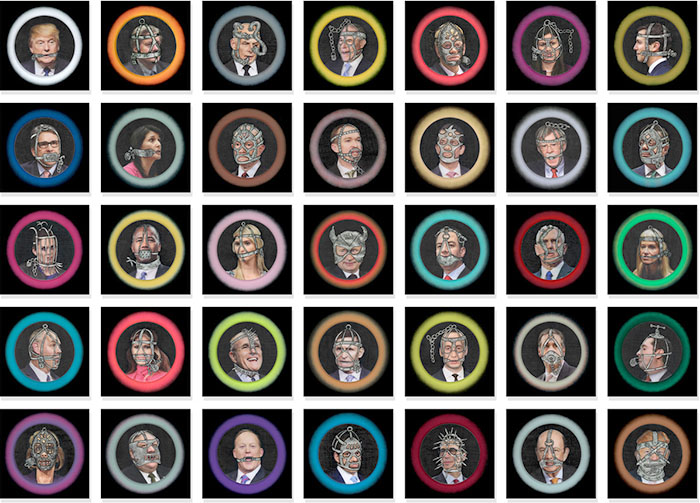 They are radical in a physical way with shape, content, and color, but as the pandemic uprooted our lives, I began to think even more about the world around us. Everything seemed so extreme. The universe is in chaos with multiple crises of climate change, gender issues, politics and immigration to mention just a few. In all this turmoil, the idea of something beautiful became radical.
This body of work takes cues from fashion design and features metonyms for cultural resistance to create a celebratory iconography—looking both to the diversity of human cultures and to our shared futures. Drag queens, with their over-the-top make-up and costumes, create masquerades of gender identity that consistently challenge what being feminine means. African artists and tribes have long used masks and apparel to commemorate birth and death in their relationship to the cosmos and to the environment. For the Maya Indians, masks and headdresses were symbols of their gods and a physical way of representing spirits and intimidating their enemies. Mardi Gras Indians create colorfully designed suits and headgear that reflect both their vital musical history and the systemic inequalities that remain prevalent in society. These examples are a few of the inspirations that I drew on to construct the sculptures in "Radical Beauty." There is no one isolated culture but a blend of spirits that exists in all of us.
Pamela Joseph is a multi-media artist who lives and works in Aspen, Colorado. Her paintings and sculptures address ideas of feminist critique and socio-political issues with a sense of humor and historical incisiveness. She was awarded a Visual Arts Fellowship in 2001 by the Colorado Council on the Arts, and subsequently selected as a Visiting Artist at the American Academy in Rome in 2003 and 2004. Francis M. Naumann Fine Arts in New York City represented Joseph from 2007 until the gallery's closing in 2019. Joseph has exhibited nationally and internationally in locations including New York, Los Angeles, Paris, Barcelona, and Beijing. Her work is in the collections of the Fort Wayne Museum of Art, Fort Wayne, Indiana; Colorado University Art Museum, Boulder; the University of New Mexico, Albuquerque; the National Art Museum of China, Beijing; the School of Art and Design at Alfred University, Alfred, New York; Fairfield University in Fairfield, Connecticut; the General Services Administration and Henry Schein Inc., New York among others.