Bridges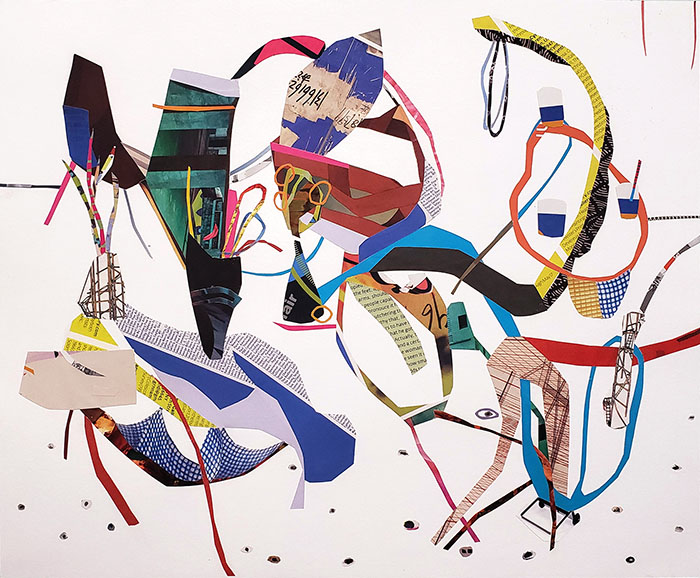 I live on the border between the U.S. and Mexico in South Texas. Here, the river flows as an ever-changing line as it binds and divides. It gives and takes lives. Depending on which side you are on, it will make a world of difference.
I grew up between both sides and as a child, the differences were not as apparent as they have now become. My work is about that. I blur the differences and merge the languages, literally and visually. I depict our way of adapting and surviving on the border.
During the pandemic, I have expanded my practice to include collages due to limited studio space and because they facilitate an alternate approach to sculpture making. I see these collages as studies. Essentially, I continue to see everything as one body of work. Because of these studies, I am now able to re-evaluate and re-contextualize the collection of items I have piled up in a corner in my studio.
Even though the collages have assimilated as abstract representations, they continue to carry the political and structural undertones that exist on the border. Bicycles, washers, dryers, chairs, pots, pans, plus a handful of new techniques are amongst the many things I plan to use and include into my new body of work. From the clothing lines, to the hanging fabrics, I just cannot help myself from expressing the beauty in the aesthetics of the working and lower-middle classes.
In a way, these collages are bridges, like the bridges that connect two sides of a border with a river binding and dividing it. What comes on the other side of the bridge is something I look forward to exploring and soon sharing.
Gil Rocha is a contemporary artist born and raised in Laredo, Texas. His art practice in and out of his studio encompasses a variety of techniques, including assemblage, painting, drawing, sculpture, and installation. His work expresses the lexicon of the Mexican-American border and the many social/political issues that derive from it. Rocha earned a Master of Fine Arts degree from the School of the Art Institute of Chicago in 2006 and a Bachelor of Fine Arts degree from the University of Texas at San Antonio in 1999.