Kinship
Art can take us on a journey to places never imagined—opening alluring and magical portals that seduce your senses—and your mind.
Growing up on a small island in Canada, I immersed myself in as many art history books that I could find. I discovered time and again that art can be powerful means for communication and change. The same goes for our experiences in nature. Over my lifetime, I have experienced some amazing and unique ecosystems. As such, I developed a great passion to learn about the Earth—its geology, oceans, rivers and ecological kinships. This led me to many exhilarating discoveries and some sober revelations regarding the dwindling health of our planet—all of which are reflected in my practice.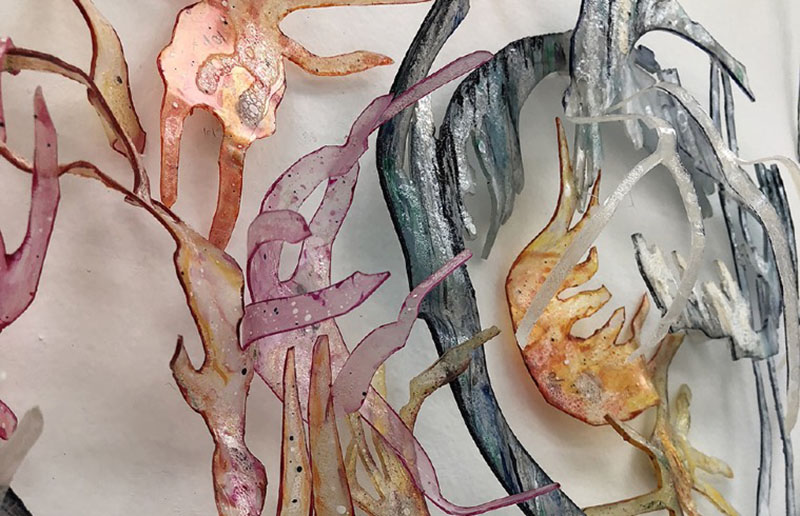 My ambition as an artist is to enrich and contribute to a growing dialog surrounding the critically important—and increasingly precarious—ecosystems that support all life on Earth. Part of this required me to take a hard look at the impact and possibilities of my own creative practice. Wanting to use environment friendly media, I looked for a material that offered endless creative possibilities but was recycled. That search led me to consider using recycled plexiglas, so I began experimenting with it many years ago as a substrate for painting and material for sculptures. After sanding it, I discovered that it would accept almost any media. Inspired by these possibilities, I then found that I could paint on both the front and the back of this translucent material to create a wonderful sense of depth and dimension. I could use power tools to cut it into shapes and alter its form through heat or chemical bonding agents. Conceptually its fragile, glass-like appearance evokes a sense of vulnerability that's crucial when exploring the precarious nature of interconnected ecosystems. Lastly, I appreciated that this material could both embody and engage in important conversations surrounding the adverse impacts of discarded plastics—especially concerning our oceans.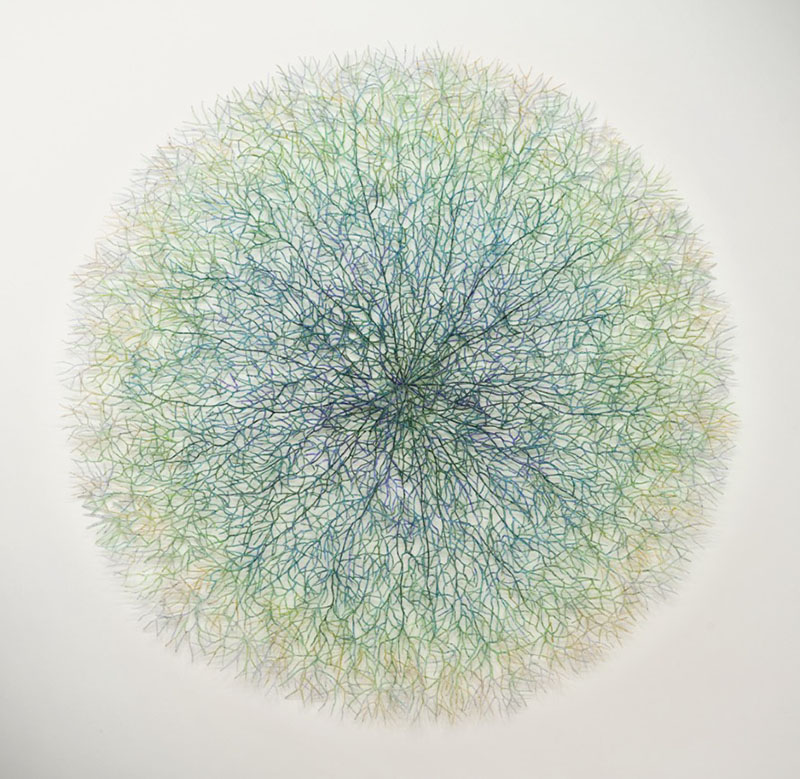 My work explores the myriad kinships at the heart of marine and terrestrial ecology. Symbiosis, a wall installation of finely cut polycarbonate, explores the amazing and complex mycorrhizal collaboration between plants and fungi. Drawing allusions between the micro and macro, the work also features design patterns found frequently throughout nature, from mycelium growth to outer space. The overarching structure of this web-like artwork is raised slightly above the wall and casts corresponding shadows that intersect visually with the branching forms, a reference to the intricate subterranean networks fungi create. Like a spore or a seed, this work began with a center point of inception and expanded outwards—mirroring the foraging behavior of fungi and roots. This unique interspecies partnership has inspired many of my recent works that address notions of kinship that permeate the natural world.
The inspiration behind Oasis began with a visit to a wetland wildlife sanctuary, where life, death, and energy cycles play out in mystical and tangible ways. Composed of over 1,000 individually painted and joined forms, this wall installation explores the pivotal threshold where the end is just a beginning. This work evolved for nearly two years, shifting both physically and conceptually along the way. While initially referencing all the life teeming within a single drop of water, I also found myself immersed in the study and contemplation of how humans express our physiological and spiritual need for water through religion and the arts. Being of Scottish and Welsh heritage, I was particularly inspired by those countries' stories of lakes, rivers, wells, and springs that center on themes of renewal and death. This research triggered my own recollections from childhood on a small island. I remember being absolutely mesmerized by seeing fish suddenly emerge from and disappear back into the deep, dark lake bottom. This memory always seemed reassuring and sad at the same time because while I came to associate the emergence and disappearance from and into the dark waters as symbolic birth and death, I seemed to know it was cyclic and never ending.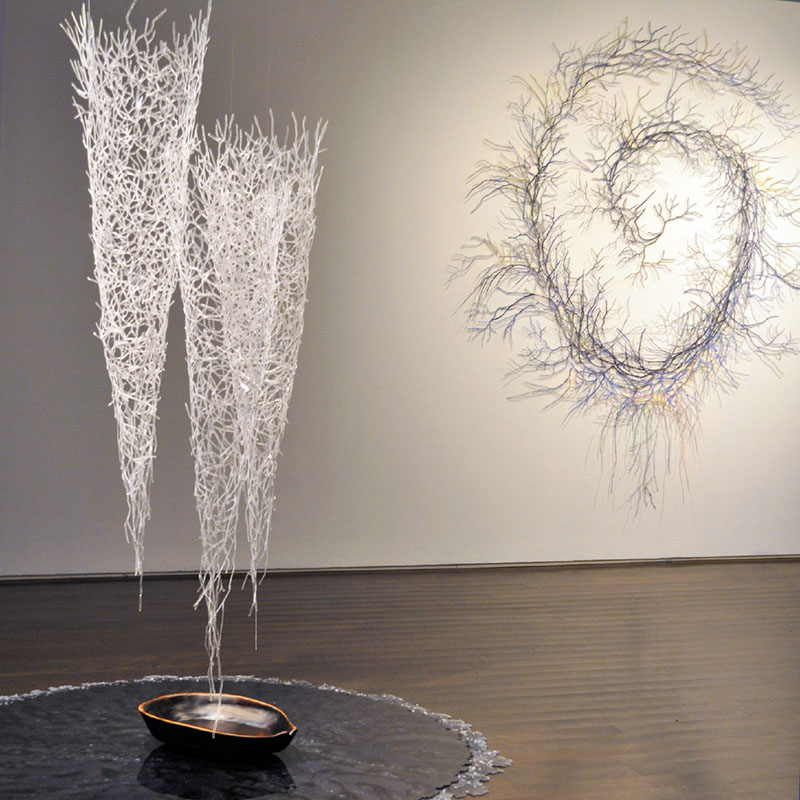 The curatorial conversation created by exhibiting In Silence next to Surge exemplifies my reverence for our world's life-giving waters. Inspired by my vivid memories of early spring in Canada, the installation becomes a moment of consecration where ice-clad branches release their melting water; where birds build basket nests; where the ice becomes so thin, one can see life moving beneath the surface; where a hand-carved wooden bowl rests as if waiting for the precious ice to melt, fall, and be collected. Just as water cultivates life, the sun brings energy to support it. The adjacent wall sculpture, Surge, celebrates this cooperation. While the many branching forms of this work spiral outward referencing exuberant growth, the glass-like nature of these delicate structures in both Surge and In Silence simultaneously suggest the extreme power and fragility of these interactions. Although my work explores and celebrates the countless ecological connections, exchanges, and interactions that support all life, it also acknowledges that the balance—our coexistence—is tenuous and precious.

Margaret Smithers-Crump is a Canadian artist whose work explores the interconnectedness of the Earth's diverse life forms and ecosystems. Largely inspired by interspecies kinships, her paintings, sculptures, and installations seek to inspire new ideas and a deeper understanding of humanity's role in an intricately intertwined biosphere. Fittingly, she creates her artworks with hundreds of recycled, hand-cut pieces of plexiglas which she paints, shapes, and chemically joins into sculptural forms and installations. Smithers-Crump has exhibited nationally with recent solo exhibitions at the Art Museum of Southeast Texas, Beaumont; Grace Museum, Abilene; Pearl Fincher MFA, Houston; Galveston Art Center; Imperial Center for the Arts, Rocky Mount, NC; Penn College of Technology, Penn State; and Manifest Art Center, Cincinnati. Margaret holds a BFA in Painting from Miami University, Oxford, Ohio and maintains that the planet has been her life-long educator. She currently lives and works in Houston.