daily ramble . . . glenwood cemetery, washington avenue, houston, texas
my first stop any given morning is glenwood cemetery.
driving through the entrance i never tire seeing open gates and unseen brick walls smothered in ivy.
nurture has produced this magnificent façade of green and regrettably something i took no notice of in my early years gaining entrance to the cemetery.
interesting what we do not see until we see it. and i always think i am so observant.
this is my ode, my prose, my rambling statement of rambles in glenwood cemetery.
full of background city noise overtaking bird song here and there, roads so familiar, headstones favored . . . and the decision made where i will ramble this day.
for my motive in being here is to ramble.
i park my car and begin my walk using collected sticks to keep track of sweaty laps for i do distract myself in thought.
5 rounds/10 laps is the usual and rewards me 8,000+ of the 10,000 steps i work towards daily.
i've had this routine of rambling in glenwood for the past 10 years.
i must admit though there have been gaps of non ramble.
for i am always irritated how sedentary ways kept me from my daily ramble.
but 2020 is a productive year in this regard and quarantine has no effect on my spirit to ramble.
in my world of glenwood i seem to be the only rambler but some 1 or groups of 3 or more are now proving me wrong.
i'm sharing this place even though no one realizes it.
glenwood feels like a grand tour setting but of what era is unidentifiable.
green mechanical buggies going to and from/dawn to dusk with groomers constantly mowing, maintaining and preparing the grounds for new residents.
and there are identifiable residents. howard hughes has his gated complex and the actress gene tierney is at rest by the office in the lee family plot.
the list of who's who could go on but my object of being here is to ramble.
others at rest are silent strangers one passes when rambling.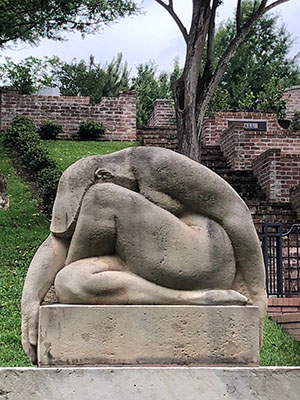 here my eyes are saturated in nature and i must take photographs of new greenery which strikes a better pose than greenery photographs i've taken from the past.
but i now take it back.
there is so much more going on than rambling here.
a family plot with each grave a bed full of prostrate rosemary.
so clever with each in a row and one behind the other. breathtaking actually.
a lucky morning trip sighting roses potted so full in planters dripping over their sides and elevated high on 4 ivy covered brick posts between a path of steps.
when services are done only flowers remain to lose their beauty in such a splendid place.
since february orange traffic cones with repetitive arrows designate the path to a service and have lined the roads 11 times. i never ramble where a service is beginning, ongoing or coming to an end.
life goes on in a cemetery and i'm reminded to drop any attitude, savor my days, soak up the breezes that blow while rambling and enjoy the summer showers that surprise.
even with my mask on.
Becki Vanderoord lives and works in Houston and New Ulm, Texas.