Robert Weiss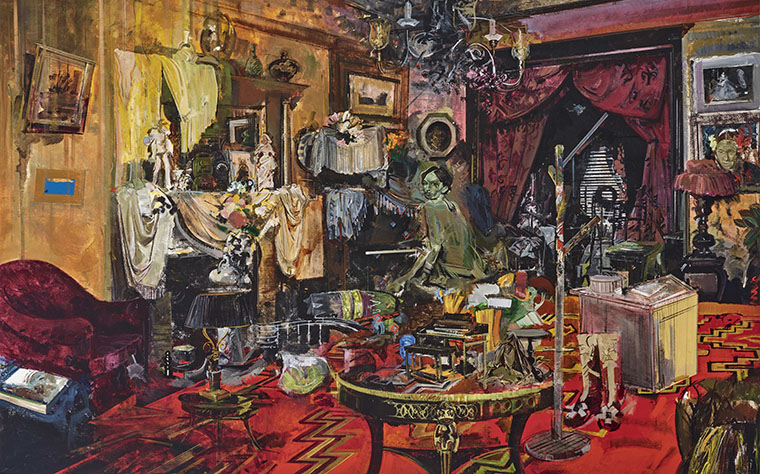 Paintings are repositories for an artist's insights, making permanent the philosophies and techniques of their time. It is my belief that paintings throughout history relate to each other, revealing dialogue between artists on the history and disciplines that inform the arts within our cultures. The intention in my paintings is to conceptualize this connection, staging the juxtaposition of specific (and seemingly disparate) objects within a tableau setting. Recognizable designs are made surreal by their placement and the painting styles applied, preparing an emotional climate for the audience to enter. The viewer investigates the symbolic gestures of the painting, from pigments to content; allegory and material work together to maximize an experience. Any narrative to discern is forged from the impressions made upon the viewer, and the viewer's knowledge of the references induced.
Painting becomes a way to absolve my knowledge of art history and the plastic arts, challenging my preconceived notions on the formal rules established through education without rejecting the traditional processes they serve. Despite my deliberate choices to upend convention, I am skeptical of postmodernism. I want to initiate a deeper exploration of the narratives sparked by the technical processes I employ in the service of my subjects. If image-making is studied for insights into the interest and rites of man, then my own image-making reveals a desire to be considered within the lineage of great art, deliberate in its pursuit to understand the complex needs of the self and the era in which that self was molded. At the point my artwork is observed, my artistic choices stack up and compound, prompting exploration for clarity, with intention as a means of realization.

Robert Weiss was born in Galveston, Texas in 1983. He moved to Dallas to attend Booker T. Washington High School for Performing and Visual Arts. He received his BFA in Painting and Printmaking at the Maryland Institute College of Art, and his MFA from Syracuse University in New York where he studied painting and drawing under Jerome Witkin. Robert currently teaches film at the Episcopal School of Dallas while continuing to work on his own short narrative films, documentaries, and paintings. Robert is co-founder of Exposition Gallery, an independent gallery that presents works by contemporary artists in historic Exposition Park.